They say a man's home is his castle, and in the case of these expensive houses that is certainly true! Discover the biggest mansion in the world and other spectacular private homes around the world in this article.
The Biggest Mansion in the World
If money is no object, these gigantic homes might well appeal. Having said that, some of them are not all that attractive, considering the amount of money that has gone into their construction.
What these luxurious homes have in common are their high-end amenities and features like infinity pools and golf courses. Read on to discover the largest and most expensive mansions in the world.
We haven't included large former mansions such as Oheka Castle, Monticello and Hearst Castle which are now hotels and museums. Most of the big mansions here are still used as homes, apart from one which is currently abandoned. So let's find out what is the biggest house in the world.
16. Villa Firenze, USA
Nestled in the heart of Beverly Hills, Villa Firenze reigns as a luxurious haven of indulgence. This impeccable property exudes sophistication and elegance with its exquisite architectural design, sprawling acres of grounds, and its opulent amenities.
The palatial villa boasts eight plush bedrooms and eleven bathrooms, all designed for maximum comfort and privacy. From its indoor movie theater to its lavish pool and two-story library with secret passageway, the Villa Firenze is an ideal sanctuary for those seeking the ultimate level of luxury and indulgence.
Villa Firenze is situated inside the 250 acre Beverly Park gated community, which requires all homes there to be a minimum 5,000 square feet.
Location: Beverly Hills, USA
Size: 28,660 square feet
Value: $52 million
Built: 1998
Architect:
Owner: Unknown
Property Features: party patios, 30-car courtyard, an orchard, basketball court, 40 foot tall palm trees.
15. Villa Leopolda, France
One of the most expensive houses on the French Riviera, Villa Leopolda was originally commissioned by King Leopold II of Belgium for his mistress Caroline Lacroix. The lavish property was then owned by Gianni and Marella Agnelli before being sold to the late Edmond Safra and his wife Lily.
Also known as La Leopolda, this magnificent house is set in 18 acres of land. The property has panoramic views of the Mediterranean Sea.
If the elegant villa looks familiar, that's because it featured in Alfred Hitchcock's movie To Catch a Thief. There are 14 bathrooms and 11 bedrooms.
Location: Villefranche-sur-Mer, France
Size: 29,000 square feet
Value: around $750 million
Built: 1902
Architect: Ogden Codman Jr.
Owner: Lily Safra
Property Features: helipad, outdoor kitchen, commercial sized greenhouse, ornate botanical gardens
14. Palazzo di Amore, USA
Beverly Hills is home to some of the most luxurious homes in the world, and one of the most magnificent is Palazzo di Amore. Built in 2005, this 25,000 square foot estate sits on a sprawling estate of twenty five acres.
The palatial mansion features 12 bedrooms, 16 bathrooms, a ballroom with DJ booth, and a state-of-the-art kitchen. Outside, guests can enjoy the lush lawns, beautiful gardens, and infinity pool with room for 150 people. But the real showstopper is the view: overlooking Beverly Hills and the Los Angeles skyline.
Location: Lania Lane, Beverly Hills, United States
Size: 53,000 square feet
Value: $195 million
Built: 2002
Architect: Bob Ray Offenhauser
Owner: Jeff Greene
Property features: two-lane bowling alley, 24-car garage, vineyard and wine cellar, spa and 50-seat movie theater.
13. The Manor, USA
Also known as Spelling Manor, as it was previously owned by TV producer Aaron Spelling, this huge mansion was then bought by Petra Ecclestone. The current owner is unknown.
Larger than the White House and 21 times the size of an average American home, The Manor is next door to the Playboy Mansion in Holmby Hills.
The property stands on the former site of Bing Crosby's home, which was torn down to build it. The neighbors weren't pleased about the scale of the house or the disruption caused by people trying to catch a glimpse of it.
Location: Mapleton Drive, Los Angeles, United States
Size: 56,500 square feet
Value: $119.5 million
Built: 1988
Architect: James Langenheim & Associates
Owner: Unknown
Property Features: Beauty salon, barber shop, 7,500 square feet master suite, two-lane bowling alley, twin butterfly staircase.
12. The Gemini Mansion, USA
With grounds covering a total area of around 696,000 square feet, Gemini is an incredible beachfront home. Purchased by tech billionaire Larry Ellison in 2022, it boasts around 2,500 feet of beachfront – 1,300 feet on Lake Worth and 1,200 feet on the Atlantic.
In fact, Gemini takes its name from its two different coastlines. Designed in the 1940s by the architect Marion Sims Wyeth, it was originally the home of the Lambert pharmaceutical family. In recent years, this stunning residence was owned by the Ziff family.
The main house has 12 bedrooms and there are 33 bedrooms in all on the Ellison estate. There's a sports complex with a tennis court, a PGA-standard practice golf facility and a children's treehouse.
Location: Manalapan, Palm Beach, Florida, United States
Size: 62,000 square feet
Value: $173 million
Built: 1940s
Architect: Marion Sims Wyeth
Owner: Larry Ellison
Property Features: secluded sandy beach, butterfly garden, cell phone signal booster.
11. Fair Field, USA
Mired in controversy, Fair Field is owned by junk bond billionaire Ira Rennert. He was forced to pay $213 million in damages to MagCorp, after being accused of using company funds to pay for this Hamptons mansion.
There are 39 bathrooms, 29 bedrooms, a 91 feet dining room and three swimming pools. As well as the main house, there's a playhouse and two pool houses on the property.
Apparently, the hot tub cost a cool $150,000. The estate even has its own power plant.
Location: Sagaponack, NY, USA
Size: 64,000 square feet
Value: $248 million
Built: 2003
Architect: Perkins and Will
Owners: Ira and Ingeborg Rennert
Property Features: basketball court, 100 car garage, two-lane bowling alley, two squash courts, two tennis courts, 164-seat movie theater.
10. Xanadu 2.0, USA
Nestled on the shores of Lake Washington, Bill Gates has a huge home with a relatively simple design. This was previously his and Melinda Gates's house until they divorced.
There are seven bedrooms and 24 bathrooms, as well as a sensor system to regulate lighting and heat. The Seattle suburb of Medina is also home to Jeff Bezos and other wealthy residents.
The property is named after the fictional home of Charles Foster Kane, the main character in Citizen Kane. In the library there is the Codex Leicster, a manuscript by famous artist Leonardo da Vinci, and two secret bookcases. One of these leads to a hidden bar.
Location: Medina, Washington, USA
Size: 66,000 square feet
Value: $147 million
Built: 1988
Architects: Bohlin Cywinski Jackson and Cutler Anderson Architects
Owner: Bill Gates
Property Features: swimming pool with underwater music system, trampoline room, reception room with space for 150 seated guests, artificial stream.
9. Lynnewood Hall, USA
Sadly, this spectacular mansion in Elkins Park, Pennsylvania is derelict and boarded up. Designed in the Neo-Classical Revival style, the 110 room property was originally built for the industrial tycoon Peter A.B. Widener.
A keen art collector, he commissioned Lynnewood as the result of a tragic event. Widener's wife Hannah died after a yacht trip.
Stricken with grief, he left their townhouse in Philadelphia and had this huge mansion built for his remaining family. Unfortunately, more bad fortune was to come when Peter Widener's son George perished on board The Titanic.
The house fell into ruin and some consider it to be the largest haunted house in the world. The current owner is the First Korean Church of New York, founded by Richard Yoon.
Location: Elkins Park, Pennsylvania
Size: 70,000 square feet
Value: $16.5 million
Built: 1897
Architect: Horace Trumbauer
Owner: Richard S. Yoon
Property Features: ballroom, art gallery, rose garden.
8. Château Pensmore, USA
Designed by multi-millionaire astrophysicist and businessman Steve Huff, Chateau Pensmore is located in the Ozark Mountains. The area is not subject to government building regulations.
The mansion was an opportunity to experiment with the latest materials. Built entirely from energy-saving concrete, the house is reinforced with Helix steel fibers which resist explosions and natural disasters.
There are 14 bathrooms, 13 bedrooms, a testing centre for students, a history museum space and a Liberty Tree Trail within the grounds.
Location: Highlandville, Missouri
Size: 72,000 square feet
Value: $10 million
Built: 2008
Architect:
Owner: Steven T. Huff
Property Features: bullet proof, earthquake resistant, blast proof, fire resistant, F5 tornado resistant and bug resistant!
7. Versailles Mansion, USA
This expensive home in Florida is not to be confused with the original Palace of Versailles near Paris, France. Still under construction, the property is the brainchild of David and Jackie Siegel.
Having made their fortune in timeshares, the Siegels decided to build this enormous mansion, which features in the documentary Queen of Versailles. They've since famously said, "We're sorry we ever started. But we're $50 million into it, so it really needs to get done.".
When this private residence is finished, there will be 32 bathrooms, 11 kitchens and a 30-car garage. There will also be two elevators, one of which is gold.
Location: Lake Butler Sound, Windermere, Florida, USA
Size: 85,000 square feet
Value: $100 million
Built: expected to be completed in 2022
Owners: Jacqueline and David Siegel
Property Features: bowling alley, spa, wine cellar, secret speakeasy, movie theater, 6 pools including an infinity pool, night club.
6. Witanhurst, UK
This Grade II listed property is the second largest house in the UK, after Buckingham Palace. Designed in the Georgian Revival style, this Grade II listed property has been extensively refurbished.
An orangery has been added, together with a 40,000 square feet basement. Witanhurst previously featured on BBC talent show Fame Academy.
There are 65 rooms, with 25 bedrooms and a 70 foot ballroom. This has ornate timber wall panels and an oak floor.
Location: Highgate, London
Size: 90,000 square feet
Value: $450 million
Built: 1913
Architect George Hubbard
Owner: Safran Holdings
Property Features: movie theatre, sauna, massage parlor, 25-car garage
5. Safra Mansion, Brazil
The late Joseph Safra and his wife Vicky had the Safra Mansion built for them, although Joseph regretted having such a huge property. He once said, "if I could go back in time I wouldn't have built such a big house".
There are very few photos available of Mansao Safra, which has a prime location in the upmarket Morumbi suburb of Sao Paulo.
The biggest house in Sao Paulo, it stands behind high security gates.
Location: Sao Paulo, Brazil
Size: 117,000 square feet
Value: unknown
Owner: Vicky Safra
Property Features: Swimming pool, 130 rooms
4. Biltmore Estate, USA
One of the most impressive historic homes in America, the Biltmore Estate is thought to be the largest private home in the U.S. Set in 8,000 acres, the estate has 250 rooms.
There are 43 bathrooms, 34 bedrooms, three kitchens and 65 fireplaces. Designed in the French Renaissance style, the mansion boasts several secret rooms.
A hidden door in the Breakfast Room leads to the butler's pantry. The library has a secret space called The Den and there's an underground tunnel beneath the property.
Location: Asheville, North Carolina, United States
Size: 175,000 square feet
Value: $157 million
Built: 1889
Architect: Richard Morris Hunt
Owner: The Biltmore Company
Property Features: winery, banquet hall, bowling alley, indoor pool.
3. Antilia, India
Standing 500 feet high, this 27 storey property is the home of Mukesh Ambani, Chairman of Reliance Industries, and his family. The gigantic house looks like a skyscraper.
There's a helipad on the roof and nine high speed elevators. 600 staff work here!
Antilia is located in the most prestigious area of Mumbai, Altamount Road. The property is designed to withstand an earthquake of 8 on the Richter scale.
Location: Mumbai, India
Size: 400,000 square feet
Value: roughly $2 billion
Built: 2010
Architect: Perkins and Will
Owner: Mukesh Ambani
Property Features: snow room, temple, rooftop helipad, an ice cream parlor, 50 seat movie theater, ballroom, 168 car garage and health spa.
2. Buckingham Palace, UK
Although Buckingham Palace is not privately owned, being the property of The Crown Estate, it is one of the homes of King Charles III. With 775 rooms, there's plenty of space for guests too! This is the biggest mansion in the world that is owned by an independent commercial business.
You can visit the 19 State Rooms during the Summer months, if you book well in advance. Tours also take in Buckingham Palace Garden, which is spread over 42 acres.
There are 78 bathrooms in the palace, and an underground tunnel system connecting it with Clarence House and the Houses of Parliament.
Location: London, UK
Size: 828,82 square feet
Value: estimated at $3.2 billion
Built: 1703
Architect: William Winde, remodelling by John Nash
Owner: Crown Estates
Property Features: Doctor's surgery, post office, police station, ATM machine, movie theater, tennis court.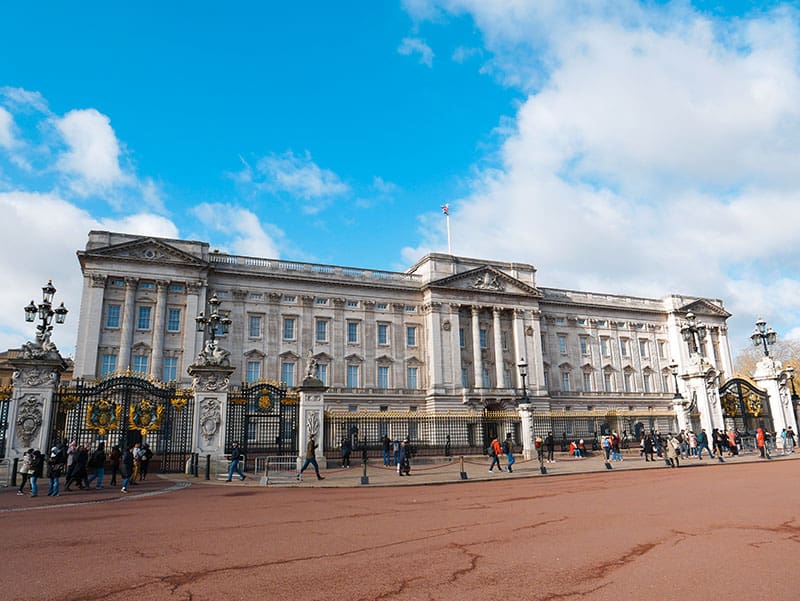 1. Istana Nurul Iman Palace, Brunei
With 1,788 rooms, a mosque and 257 bathrooms, Istana Nurul Iman Palace is the biggest mansion in the world. Also known as The Light of Faith Palace, it was designed by Leonardo Locsin and cost $1.4 billion to build in 1984.
The palace's gold domes and vaulted roofs are a combination of Malay and Islamic architecture. As well as being a private home, this is a place where foreign dignitaries are entertained.
You can visit the world's biggest house during the three days of Hari Raya Aidilfitri. Guests are served food and can queue to meet the Sultan or his wife.
Location: Bandar Seri Begawan, Brunei
Size: 2.15 million square feet
Value: estimated at $3.9 billion
Built: 1984
Architect: Leonardo V. Locsin.
Owner: The Sultan of Brunei
Property Features: air-conditioned stables with space for 200 polo ponies, 5 swimming pools, 110-car garage, mosque,
Here's a recap of the biggest mansions in the world:
Istana Nurul Iman Palace
Buckingham Palace
Antilia
Biltmore Estate
Safra Mansion
Witanhurst
Versailles
Pensmore
Lynnewood Hall
Xanadu 2.0
Four Fair Field
The Gemini Mansion
The Manor
Palazzo di Amore
Villa Leopolda
Villa Firenze
In Conclusion: The Biggest Mansion in the World
While there are many big houses in the world, these mega mansions take things to a whole new level! These estates may be out of reach for most people, but they provide us with a glimpse into the lifestyles of the ultra-rich.
Be sure to check out our other architectural articles here on LuxuryColumnist.
If you like the biggest mansion in the world, pin for later or share with friends.
You might also enjoy:
Looking for more travel hacks and tips? From hidden gems to unique experiences, we've got you covered.

Join us on Facebook, Instagram, Pinterest and Twitter.