Italian furniture designers have been creating beautiful pieces since ancient times that combine traditional craftsmanship with modern influences like Art Deco and Postmodernism. From Gio Ponti's Superleggera chair to Ettore Sottsass' vibrant Memphis Group pieces, there is something here for everyone who appreciates classic Italian design combined with cutting edge visual appeal!
Whether you're looking to update your living space or just curious about what makes these iconic names so beloved among fans of interior design, this guide will give you a better understanding of why Italian furniture designers are so celebrated throughout history!
Is Italy Famous for Furniture?
Italy undeniably has a distinguished name when it comes to elegant and luxurious furniture designs. From dining sets to couches, Italian designs have been beloved for centuries, ranging from the grand Renaissance styles of the 16th century all the way to modern minimalistic chic.
As such, it's no surprise that Italy is regarded as having some of the best and most beautiful furniture in the world, available both in its popular high-end stores or elegant antique shops. Not only does Italian made furniture look stunning, but its expert craftsmanship ensures quality and durability that many on-trend mass production pieces simply don't have.
The Italian furniture industry produces many collections that are popular with other nations. 10% of all furniture manufactured globally is Italian. Buyers flock to the Milan Furniture Fair (Salone del Mobile) each year to place orders.
What is Italian Furniture Style?
Italian furniture design is known for its exquisite attention to detail, quality materials, craftsmanship and timeless style. Italian designers combine classic shapes, colors and textures to create classic pieces with a contemporary aesthetic. They are also known for their innovative use of materials, such as leather, tubular steel and glass, to create pieces that are stunning and functional.
Some of Italy's historic homes feature breathtakingly grandiose examples of high-end Italian furniture that are works of art in themselves. Luxurious fabrics such as velvet or silk can be seen on seating pieces or even as wall coverings to enhance the elegance inherent in this classic design style.
Modern Italian furniture style is characterized by primary or neutral colors combined with carved wood and stainless steel. Furthermore, Italian furniture often features curved lines for an organic, balanced look.
The History of Italian Design
Italy is known for its beautiful art and design, from Renaissance painters to modern fashion. One of the most iconic aspects of Italian interior design is furniture.
From ancient Roman chairs to contemporary tables and cabinets, Italian furniture has long been prized for its quality craftsmanship and style. During the early twentieth century, Italian Art Deco influenced furniture design greatly.
However, it was modern Italian design which really caught the world's eye in the post-war era, as designers such as Gio Ponti and Ettore Sottsass emerged on to the scene; bringing their bold and eclectic designs to life.
What Are The Main Italian Design Movements?
Italian design has seen five main distinct movements. Futurism captured the energy and enthusiasm of the industrial age while Bel Design focused on quality, craftsmanship, and traditional design elements.
Radical Design emerged in the 1960s with a Futurist view towards consumerism and mass production. From there, came Alchimia which blurred the lines between contemporary art, craft and design.
Finally came Memphis – a movement of fun experimentation focused on modern creativity and bright colors that presented an alternative to less exuberant styles. These five main movements in Italian design have revolutionized today's visual landscape as we know it.
What Materials are Used in Italian Furniture?
Italian furniture is typically made out of high quality materials like leather, velvet and wood. Additionally, metal accents may also be used to add interesting visual detail.
Many pieces are ornately decorated with detailed carvings and inlays. The finishes applied to these pieces often make use of natural oils, waxes and paints.
Most Iconic Italian Furniture Designers
Here's a look at some of the most famous Italian furniture designers. They have created some of the most distinctive luxury furniture of all time.
1. Mario Bellini (1935 – Present)
Mario Bellini is an Italian architect and designer who has designed furniture for many top companies such as B&B Italia, Cassina, Kartell, Knoll International, Molteni & C., Nemo Cassina, Poltrona Frau, Serralunga. His designs are characterized by their modernity, functionality and attention to detail.
Bellini has won numerous awards for his signature style, including eight Compasso d'Oro awards from ADI (Association for Industrial Design).
2. Gae Aulenti (1927 – 2012)
Gae Aulenti was an Italian architect and designer whose career spanned several decades. She was best known for her iconic modern furniture designs, which often incorporated geometric shapes or unexpected materials like Plexiglas or aluminum.
In her native Italy she created opera sets for Milan's La Scala opera house, furniture for luxury department store La Rinascente and was a stage designer for Luca Ronconi. She was also responsible for transforming a former railway station into the acclaimed Musee d'Orsay museum in Paris.
Gae Aulenti was one of the first female architects in Italy to gain international recognition for her designs. Her furniture has been exhibited all over the world, from Paris to Tokyo.
3. Fabio Novembre (1966 – Present)
Fabio Novembre is an Italian designer whose work combines modern technology with traditional craftsmanship. His pieces often feature bold colors and unexpected shapes that make them stand out from other contemporary furniture designs.
Novembre has collaborated with many international brands such as B&B Italia, Moroso, Cappellini and Knoll International.
4. Gianfranco Frattini (1926 – 2004)
Gianfranco Frattini was a sought-after Italian furniture designer whose stylish pieces were admired worldwide. Working with wood and other materials, he created an original design language that was at once modern and timeless.
His furniture aimed to combine comfort and functionality through the creative use of light materials and shapes, expressing beauty in everyday life. Frattini had a passion for innovation, often combining two disparate elements in interesting ways to create something new.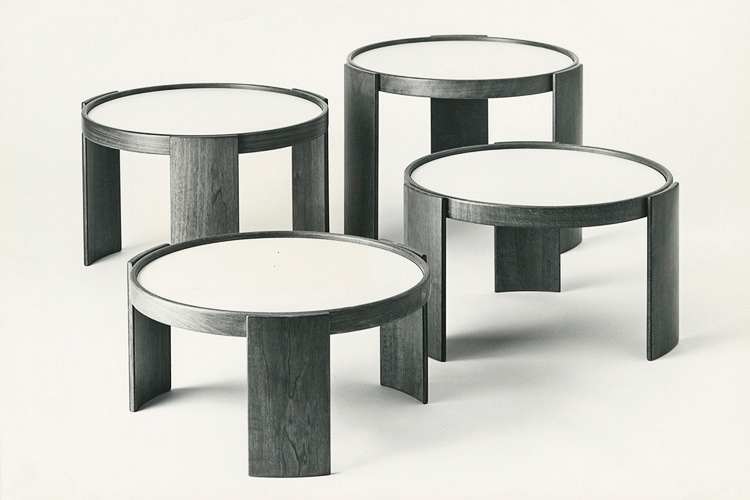 5. Enzo Mari (1932 – 2020)
Enzo Mari is an Italian designer whose work is characterized by simplicity and functionality. He has collaborated with various companies including Zanotta, Artemide and Fritz Hansen.
His unique pieces include his self-assembly Sedi and Bambino children's chair. Mari received an Honorary Doctorate from Domus Academy in Milan in 1999.
6. Gio Ponti (1891-1979)
Gio Ponti was one of the most influential figures in 20th century Italian design. He was an architect, painter, sculptor, interior designer, as well as a furniture designer.
His works are characterized by their combination of traditional craftsmanship with contemporary design influences such as Art Deco and Modernism. Some of his most famous pieces include the Superleggera chair for Italian brand Cassina and D.555.1 coffee table for Molteni & C.
7. Piero Lissoni (1960 – Present)
Piero Lissoni is an Italian designer who works with many leading international brands including B&B Italia, Cassina, Living Divani, Porada, Poliform, Maxalto. His designs often combine modern shapes with traditional materials like wood or leather.
He also collaborates with international architects on designing luxury hotels and other projects around the world.
8. Ettore Sottsass (1917-2007)
Ettore Sottsass was an architect, industrial designer, painter, sculptor and ceramicist who had a major influence on Postmodernist design. He began his career designing office equipment for Olivetti in 1957 before branching out into furniture design in 1965 with his Superboxes cabinets for Poltronova.
In 1981 he founded the collective Memphis Group which produced colorful geometric shapes inspired by popular culture including music, art and architecture from around the world. His work can be seen in museums all over the world today.
9. Ico Parisi (1916-1996)
Ico Parisi was a renowned Italian designer who created some of the most iconic pieces of mid-century modern furniture. He drew inspiration from both traditional crafts and modern art movements like Surrealism and Cubism to create highly innovative design pieces that were also comfortable and functional.
Some of his best-known works include his PA' 1947 wood console and 875 armchair for Cassina.
10. Achille Castiglioni (1918 – 2002)
Achille Castiglioni was an Italian architect who worked with several major brands such as Alessi, Artemide, Flos, Foscarini, Oluce, Zanotta. He won five Compasso d'Oro awards from ADI during his career as well as the prestigious Prince Philip Designers Prize from London's Royal Society for Arts in 1993.
One of his most iconic pieces is the Arco lamp which he designed with his brother Pier Giacomo Castiglioni in 1962 .
11. Paolo Buffa (1903-1970)
Paolo Buffa was an Italian architect who specialized in interior design. He designed furniture for many top luxury brands including Giorgetti, Riva 1920 and Mondo Convenienza.
Buffa's designs are characterized by their clean lines and elegance. He was awarded a Gold Medal from ADI's Compasso D'Oro Award program in 1965 for excellence in design.
12. Vico Magistretti (1920 – 2006)
Vico Magistretti was an Italian architect and designer who worked with many major European brands including Artemide, Cassina, Kartell and Zani & Zani. He won numerous international awards throughout his career including two Compasso d'Oro awards from ADI as well as a Gold Medal from the Royal Society for Arts in England in 1994 for services to industrial design.
13. Carlo Mollino (1905 – 1973)
Carlo Mollino was an acclaimed architect and designer from Turin who is credited with introducing modernism to Italy in the 1950s. One of his most famous pieces is the Poltrona per l'Auditorium Rai di Torino armchair. This piece of furniture features a unique curved shape that has become his trademark style.
He was also known for his organic-looking shapes and curves as well as his use of materials such as wood, metal, and leather.
14. Franco Albini (1905 – 1977)
Franco Albini was an Italian designer whose career began in the 1930s when he opened a studio with fellow designer Antonio Piva in Milan. He is best known for his minimalist approach to design which emphasized simplicity over ornateness and often used natural materials like wood or rattan in his pieces.
Albini's work includes chairs, tables, shelving units, desks, lamps, sofas and more. His designs were widely recognized during his lifetime; he won numerous awards including ones from The American Institute of Architects (AIA).
Final Thoughts on Italian Furniture Designers
Italian furniture designers have left an indelible mark on interior design around the world. They have redefined what modern design can be by combining traditional techniques with innovative approaches that push boundaries while still being practical and aesthetically pleasing at the same time. If you are looking for inspiration for your own home décor projects or just want to admire some truly remarkable works of art—take a look at these 12 famous Italian furniture designers!
Italy has long been known as one of the leading countries in the world when it comes to furniture design. The country is home to some of the most influential and iconic designers in history, and their work has become symbolic of Italian style and craftsmanship.
The timeless designs created by these Italian furniture designers will last for generations. They are sure to inspire any interior and elevate the design of any home. These pieces will add a touch of sophistication and luxurious style to any living space.
Whether you are looking for classic Italian furniture or something more modern, these designers have created timeless pieces that can be enjoyed for years to come. From tables and chairs to sofas and beds, there is sure to be something to fit any style and budget. Get inspired with these designs from Italy's most iconic furniture designers!
Read Next: