For travelling in style, you can't beat luxury luggage. It's worth investing in the best cabin trolleys and suitcases, as they will make your trip a lot more enjoyable. The best luxury luggage brands have a blend of good looks, technical features and practical design. Read on to find out which designer luggage brands are right for you.
Best Luxury Luggage Brands
There are several factors to consider when purchasing designer travel bags. Technical features, dimensions, weight and appearance are all important.
Think about what you will use the luggage for. If you'll be carrying fragile items, you may be best off with a hardside case rather than soft sided luggage.
Luggage Capacity
How much capacity your luggage has is an important consideration. Bear in mind that features such as a telescopic handle and four wheels will take away some space inside your case. The outer luggage dimensions won't necessarily reflect the interior capacity.
Luggage Dimensions
The regulation carry-on size varies depending on which airline you are flying with. For many airlines, this is a maximum length of 56 cm or 22 inches, a maximum width of 45 cm or 18 inches and maximum depth of 25 cm or 10 inches.
However, for budget airlines, the dimensions allowed tend to be smaller, so bear this in mind if you frequently fly with a low-cost carrier and check their requirements before purchasing your cabin bag.
Luggage Weight
One of the most important considerations when choosing luggage is its weight. Imagine wasting up to 25% of your luggage allowance with the weight of your case! A heavy case may look stylish but you won't be able to bring as many items compared to lighter luggage.
The lightest carry on cases on the market weigh under 4 pounds or 2 kilograms. Depending on size, the lightest checked luggage starts at 4.4 pounds or 2 kilograms.
Usually, fabric softside luggage is lighter than hardside luggage. However, some Samsonite hardside luggage made from their patented Curve® material are the exception to this rule. They're incredibly lightweight and designed for maximum impact resistance.
In terms of checked baggage allowance, it varies again for each airline. For American Airlines the allowance is 50 lbs (23 kgs) in economy or 70 lbs (32 kgs) in business or first. For some budget airlines, you pay for any checked luggage.
Smart Luggage
These days, luxury travel bags come with all sorts of built-in extras. Some of the most popular luggage features are:
360-degree swivel wheels for extra stability and ease of movement
RFID blocking technology to prevent your details being stolen
App controlled built-in GPS tracker with a proximity alert
USB charging station
Power bank to charge your phone on the go
Built in digital scale operated through an app
Integrated removable batteries, which conform with airline policies
Remote locking system
Zipperless access via a code
Interior compression system for your clothes
Some luggage brands even have a security app, which informs you each time that your suitcase is opened out of your sight, or bio-lock fingerprint scanners. Or for something truly innovative, what about a motorized suitcase by Modobag? You can ride it in the airport terminal to get around in record time!
Luggage Durability
Probably the most important factor when choosing luxury luggage is how durable it is. Some brands such as Samsonite have designed their cases to withstand repeated shocks.
It's also important that wheels are firmly attached and that the zips are strong enough to withstand repeated opening and closing. Many luxury luggage manufacturers provide a complimentary repairs service for general wear and tear. Of course, if your luggage is damaged by the airline while in transit, it is their responsibility to repair it.
Style of Luggage
Do you prefer a fashion suitcase or something a little more discreet? These days, there are luggage styles to suit everyone.
From vibrant floral patterns to geometric designs, you can choose the luggage that fits your personality best.
Darker colors tend to be more practical, particularly for soft-shell luggage. These days, many hardshell cases are made from scratch-resistant material such as polycarbonate. ABS is another common luggage material but it is not as resistant as polycarbonate or aluminium.
Types of Luggage
The two main types of luggage are softside and hardside, also known as soft shell and hard shell. They each have their advantages, for example soft cases tend to be lighter and you can squash them down to fit inside overhead lockers.
Hardside cases are usually more secure and hard-wearing. Thanks to advances in technology, they're a lot lighter than they used to be.
For security, hardside cases are hard to beat. We once had someone use a knife blade to extract valuables on our soft shell suitcase on a crowded train where we had to leave the case out of our sight.
There are of course different types of luggage, including cabin trolleys, under seat bags, check-in suitcases, garment holdalls and duffel bags. We've listed our top picks for luxury luggage that looks great and performs well below.
Best Luxury Carry on Luggage
Here are two of the best luxury cabin luggage options. Choose a spinner trolley or backpack, or combine the two as we do for maximum capacity and minimum hassle.
1. Sterling Pacific 35 L Cabin Case
The Sterling Pacific 35L Cabin Travel Case is the ultimate choice for the sophisticated traveler. Its heavy duty aluminium build ensures that it can withstand the toughest of journeys.
Italian full-grain leather handles add an elegant touch to its sleek exterior. The lifetime warranty that comes with it guarantees that this travel case will be a lasting investment for anyone who chooses it.
Its full 5052 aluminum body and impact bearing ridges provides superior durability and protection for your belongings, making it a reliable travel companion for years to come. For those who seek both style and function, the Sterling Pacific 35L Cabin Travel Case is the perfect option. We love using ours!
Top Features
Reinforced A380 Aluminum Corners
Italian full-grain leather handles
Telescopic adjustable height handle
Dual Thru Axle wheels
TSA Double Combination Latch Locks
Ring spun twill weave lining and mesh pocket
Amenity and care kit including an amenity bag, leather care wax and cloth, case manual and aluminium pen
Lifetime warranty and repair service covers defective workmanship and main case functionality
Maximum allowable carry-on size on most American airlines
Quick Stats:
Dimensions: 22.5″ x 14″ x 8.5″
Volume: 35L
Weight: 11.5 lbs
Maximum allowable carry-on size on major American airlines.
2.

Bric's X Travel Lightweight Carry on Trolley
Our favorite cabin trolley is this stylish number by Italian luggage specialist Bric's. We have been using Bric's carry-on luggage for years and love the smooth wheel glide and leather details. In our opinion, it's the best carry on luggage for women, as it's easy to lift into an overhead locker.
This is one of the lightest carry-on trolleys on the market at just 2.5 kgs and it's available in 2 colors, black or olive. The external pocket is easily accessible for travel documents and items such as laptops.
Top Features
Easy to clean, durable satin nylon
Leather handle, zip pulls and logo
Telescopic adjustable height handle
Four 360º swivelling wheels
Interior pocket with zip closure
Two internal garment straps
5 year guarantee covers defective workmanship or materials
Quick Stats:
Dimensions: 22.5″ x 14″ x 9″
Volume: 42L
Weight: 5.5 lbs
3. Rimowa Never Still Backpack
The Italian luxury luggage brand has a great range of travel luggage, the Never Still collection. This Rimowa canvas backpack has TSA approved locks and a double-zipped compartment.
Top Features
Adjustable shoulder straps
TSA approved locks
Complimentary removable leather address tag
Black, rose or grey colorways
Grooved pockets
Quick Stats:
Dimensions: 16.5 cm x 12.2 cm x 6.7 cm
Volume: 5L
Weight: 1.3 lbs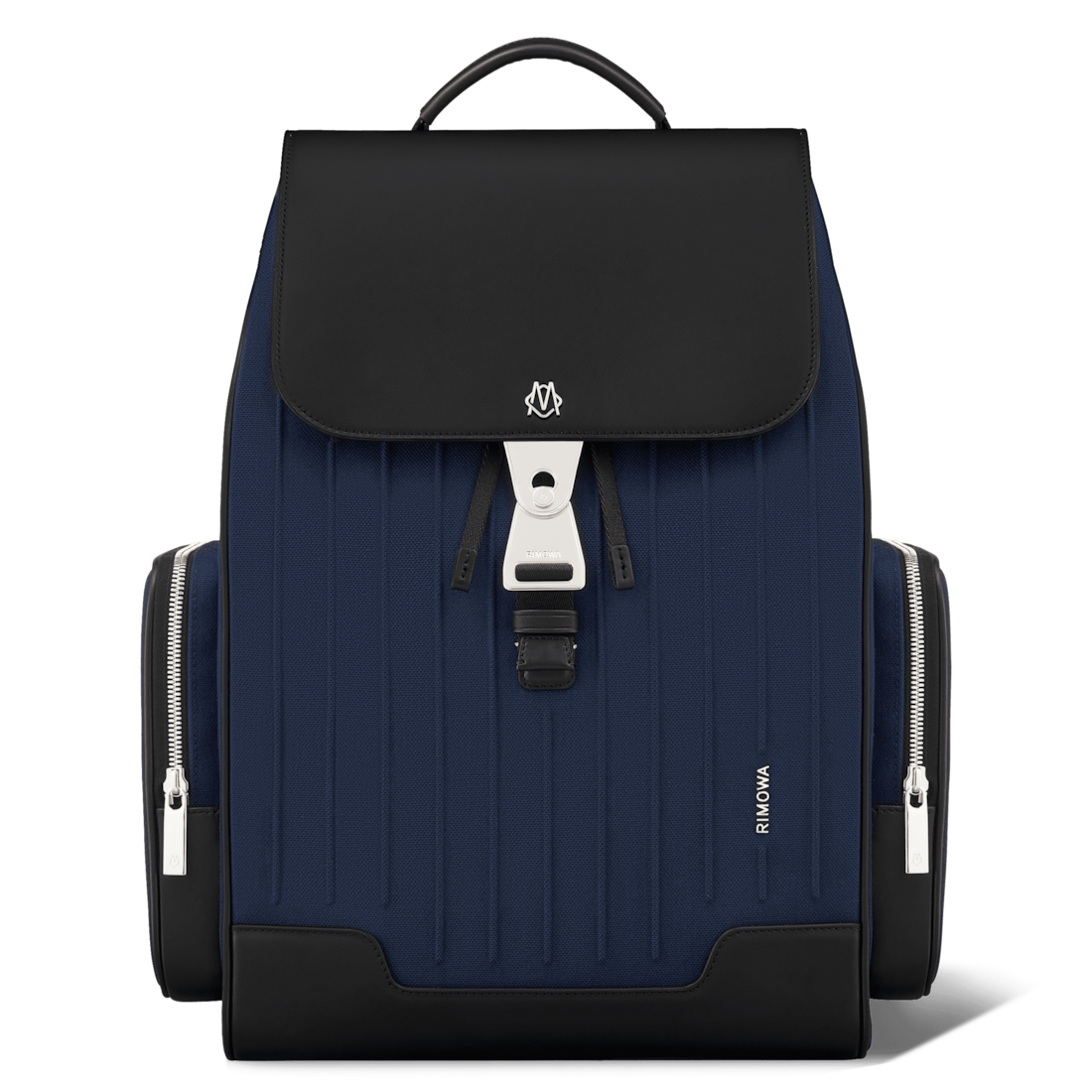 4. Knomo Mayfair Beauchamp 14″ Backpack
This British brand are known for their hardwearing travel and work bags. We've got two Knomo Beauchamp laptop backpacks, one in leather and one in nylon that we use on most of our trips for hands free travel.
All Knomo backpacks have useful features such as RFID blocking technology and padded adjustable straps. There are lots of exterior and interior pockets, including a padded laptop one for extra protection.
Top Features
Lightweight water-resistant fabric
Full grain leather detail and zip pulls
RFID blocking technology
Can accommodate laptops up to 14"
Several interior pockets including one with zip closure
Protective padded laptop pocket
Padded S shape straps
2 year guarantee covers defective workmanship or materials
Quick Stats:
Dimensions: 42 cm x 29.5 cm x 10 cm
Volume: 8.8L
Weight: 1.7 lbs
Best Luxury Suitcases
In terms of check in luggage, you need something that is going to withstand repeated shocks. A TSA-approved lock is also a must if you're travelling to and from the States.
The following hardside luggage options are all excellent. They each come in a variety of sizes, from medium to extra large.
1. Briggs & Riley Sympatico Medium Expanding Spinner
This luxury suitcase comes in cabin luggage size, as well as medium, large and extra large check-in. Where the Sympatico stands out is with its patented CX technology. This gives more than 17% extra packing space which compresses back to its original size.
Top Features
Lightweight polycarbonate material
External handle gives increased capacity and ensures that clothes arrive wrinkle free
Telescopic aluminium adjustable height handle
360º double spinner wheels
CX expansion system, for up to 25% extra packing capacity
Simple as That® Lifetime Guarantee
Quick Stats: 87.2L | 5.3kg | 68.5 x 47 x 29 | $$$
2. Horizn Studios Model H6 Check-In 65L
Known for its smart luggage features, Horizn is also popular for its pared down aesthetic. Their Model H range is designed and manufactured in Germany from aerospace-grade polycarbonate.
Top Features
Protective aerospace-grade polycarbonate casing
Removable smart charger that can recharge mobile devices up to six times
Japanese 360º spinner wheels
TSA-approved lock
Laundry bag and inbuilt compression pad
Quick Stats:
65L | 8.5 lbs | 64 x 46 x 24 cm
3. Samsonite Cosmolite 81 cm Spinner
Our top pick for checked in luggage, Samsonite manages to combine durability with good looks. They also make some of the lightest luxury suitcases on the market.
You can personalize this case for free, with engraving on the telescopic handle. This feature, together with the vibrant color make it easy to spot on the luggage carousel!
Top Features
Exclusive Curv® material, made Germany
Free personalization
Shock absorbing corner design
Lightweight telescopic handle
Four multi-directional spinner wheels
Water resistant PU zipper
Integrated TSA combination lock
Integrated ID tag
10 year limited global warranty
Quick Stats:
123L | 6.39kg | 81 x 55 x 34 cm
12 Best Luxury Luggage Brands
Here are 12 of the best luxury luggage brands, which combine great design with a whole host of technical features.
1. Sterling Pacific
When it comes to luxury luggage, few brands are on par with Sterling Pacific. With their full aluminium travel cases and a commitment to crafting only small batches, these cases are the epitome of sophistication and elegance.
The brand embodies a dedication to quality and craftsmanship that is apparent in every single case they produce, making them a trusted choice for the most discerning travelers. Sterling Pacific's luggage is not only stunning to look at but also incredibly durable, providing much-needed peace of mind when transporting precious belongings.
As a leader in luxury luggage, Sterling Pacific is far more than just a brand; it is an experience, and its exquisite cases are sure to become treasured companions on any journey.
2. Bric's
The famous Italian luggage brand Bric's Milano has been going strong since 1952. Based near Lake Como, Bric's take their name from the founder, Mario Briccola.
The company is still a family run business today, with Mario's daughters, sons and grandchildren at the helm. Bric's luggage is known for its durability and stylish looks, making them popular with supermodels and business executives alike.
They have an extensive range of soft and hardshell cases, as well as duffle bags and backpacks. The Bric's trolley bag is our top pick for cabin luggage, due to its lightweight design.
3. Briggs & Riley
Part of the US Luggage LLC stable of companies, who introduced the first wheeled suitcase in 1970, Briggs and Riley was founded in 1993. They focus on innovation, and introduced the groundbreaking CX expansion compression system, enabling bags to expand up to 33% and to compress back to their original size.
Briggs & Riley have patented an Outsider®handle design which gives a flat packing area inside the case. This increases capacity and ensures wrinkle-free clothing.
One of their biggest selling points is their lifetime guarantee, which even includes damage done by airines. It is the only unconditional lifetime guarantee of any luggage brand.
4. Ermenegildo Zegna
The famous Italian designer is known for its luxury menswear, but they also do a great range of luggage. The brand Ermenegildo Zegna started in Trivero, North Italy in 1910 and they now have over 500 stores worldwide.
Still a family business, they have a strong focus on ethical sourcing. Ermenegildo Zegna have a chic range of trolley spinners as well as leather holdalls and backpacks.
5. Fabbrica Pelletterie Milano
This iconic Italian luggage brand was founded in 1946. Fabbrica Pelletterie Milano, or FPM for short, is known for its Bank suitcases, inspired by vintage luggage trunks.
6. Globe-Trotter
This British luxury luggage brand was established in 1897. All Globe-Trotter suitcases and accessories are handmade in Hertfordshire, England using traditional machinery and techniques.
Globe-Trotter has a devoted clientele, including Queen Elizabeth II who took the cases on her honeymoon in 1947. Sir Winston Churchill had a Globe-Trotter Dispatch Case. Even fictitious characters such as James Bond in Spectre have been seen with the iconic brand.
7. Horizn Studios
This German luggage brand carries out 40 tests before launching any new products, including gliding ability, tensile strength and water repellency. They use a range of innovative materials for their luggage including waterproof tarpaulin, vegan Hi-Core shell and waterproof ballistic nylon which is used to make bulletproof vests.
The luggage comes with a five year warranty and there is also a 100 day risk-free trial.
8. Jekyll and Hide
Founded in 2003, this luxury leather luggage brand is synonymous with quality and style. They have a good range of leather carry on trolleys, holdalls and backpacks.
Jekyll & Hide use RFID technology to keep your card details safe while you travel.
9. Knomo
One of our favourite British luxury bag brands, Knomo use the finest fabrics and full-grain leather. What really makes the difference though, is their stylish yet practical design.
10. Samsonite
For lightweight luggage that doesn't skimp on style, you can't beat Samsonite. Founded by Jesse Shwayder in 1910, the American luggage brand is at the forefront of innovation.
Samsonite luggage is incredibly lightweight, thanks to its groundbreaking Curv® material. It also has a three-point locking system for optimal security.
11. Tumi
Aiming to solve any traveller's problems with their clever solutions, Tumi has established a loyal customer base amongst frequent travelers. Thanks to their TSA-approved T-Pass® technology, your laptop can remain in your bag while it passes through airport scanners.
Tumi's Add-a-Bag hook enables you to add an additional bag to your main one. Their shoulder strap is designed to prevent slippage while you walk and their Omega Closure System® stops damage to zippers.
One of the best luggage brands, new Tumi products undergo 30 tests before being launched. The complimentary TUMI Tracer® program reunites customers with their lost or stolen bags.
12. Vocier
The world's most awarded luggage was designed by frequent travelers for frequent travelers. Vocier is a German luxury luggage brand that is highly functional.
Their patented Zero Crease™ system uses internal suspension to ensure that your clothes arrive with less wrinkles than you ;-). Extra wide magnesium handles increase internal storage space and make transportation a breeze.
Final Thoughts on the Best Luxury Luggage Brands
After examining the best luxury luggage brands, it's clear that while they vary in style, size, and price range, quality always remains paramount. From the popular hardside suitcase of Tumi to the practical Brics softside cases, these high end luggage lines offer something special and unique to everyone.
Whether you desire a carry-on bag for quick business trips or something larger for more extended journeys abroad, there is certainly an option that fits your needs. Luxury luggage brands are making sure we can all travel in style, comfort, and assured quality wherever life takes us.
If you want to explore more about fashion options for your travels, be sure to check out our other style articles!
You might also enjoy:
Like these luxury luggage brands? Pin for later or share with friends.